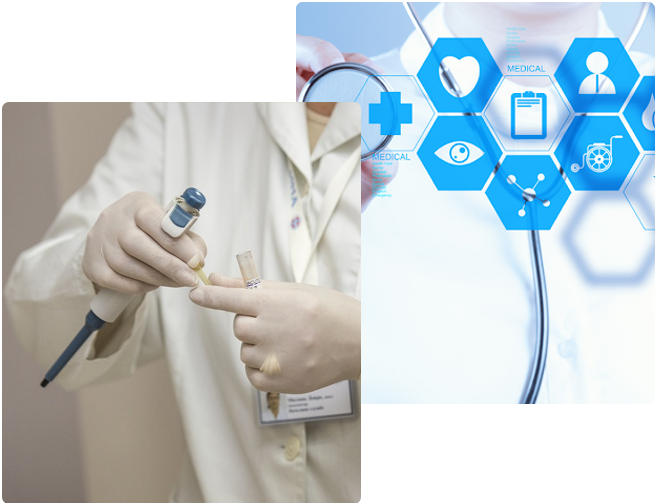 About Us
Welcome to World Wide Vision
World Wide Vision is a private Organization with headquarters in the Capital of Pakistan since the last 28 years. We provide High Quality Medical Equipment & Devices used in Imaging & Diagnostics, Laboratories, Healthcare Infrastructure, Medical and Surgical disposable supplies in Pakistan.
Healthcare is a part of life we all consider to be something we are entitled to – it is our right to have access to healthcare whenever we need it. With aim to introduce world class medical technology in Pakistan, we deliver the Best Quality products which meet the highest standards and are approved by WHO. This not only Strengthens the Bond with our client, it makes their trust in us even stronger.
Our innovative products and services in the area of health and medical technology improve the quality of people's lives and help to optimize the delivery of healthcare to people all over the world.
Our high level of technological expertise makes us a preferred partner in the international marketplace.
Bosch Vivalytic with COVID-19 Rapid Test
Developed in just six weeks, the rapid test can detect a SARS-CoV-2 coronavirus infection in patients in under two and a half hours. The test for COVID-19 can help medical facilities make fast diagnoses and play a part in containing the coronavirus pandemic.
Developed in just six weeks, the rapid test can detect a SARS-CoV-2 coronavirus infection in patients in under two and a half hours — measured from the time the sample is taken to the time the result arrives. Another advantage of the rapid test is that it can be performed directly at the point of care. This eliminates the need to transport samples, which takes up valuable time. It also means patients quickly gain certainty about their state of health, while allowing infected individuals to be identified and isolated immediately. With the tests currently in use, patients must usually wait one to two days for a result. "Time is of the essence in the fight against coronavirus. Reliable, rapid diagnosis directly on site with no back and forth — that is the great advantage of our solution, which we see as another example of technology that is 'Invented for life,'" Denner says.
Up to 1,000 test per day on just 100 devices
Easy application at the point of care
In various laboratory tests with SARS-CoV-2, the Bosch test delivered results with an accuracy of over 95 percent. The rapid test meets the quality standards of the World Health Organization (WHO). A sample is taken from the patient's nose or throat using a swab. Then the cartridge, which already contains all the reagents required for the test, is inserted into the Vivalytic device for analysis. During the analysis, medical staff can devote themselves to other tasks, for example treating patients. The Vivalytic analyzer is designed to be so user-friendly that even medical personnel who have not been specially trained on it can reliably perform the test.
A Bosch Vivalytic analyzer can perform up to ten tests in the space of 24 hours. This means it takes just 100 devices to evaluate up to 1,000 tests per day. Given the dynamic spread of the coronavirus SARS-CoV-2, laboratories are already working beyond capacity. The Bosch Vivalytic will thus help to increase available testing capacities.
Bosch Vivalytic Instrument Details
POC testing analyser that can be used outside of a laboratory.
Testing Cartridges can be stored at room temperature which means this analyser and testing tests are suitable for airports and entry points.
Testing Cartridges can be stored at room temperature which means this analyser and testing tests
The analyser performs all the PCR steps from Extraction- Amplification- Detection Sample type would be Nasopharyngeal swab
Point of care platform
Detection from clinical specimen
Closed system
Fully automated
Suitable for both non-laboratory & laboratory settings
Weight of analyser: 15 KG
Randox Investigator with COVID-19 Rapid Test
Randox has developed a test for COVID-19 (SARS-CoV-2), the new strain of coronavirus. The only test in the world that can identify the lethal strain and differentiate between other non-lethal variants with the same symptoms. The new test utilizes Randox Biochip Technology, with results available in less than 5 hours on the Randox Evidence Investigator, a semi-automated analyzer that is capable of processing 54 patient samples simultaneously
Semi-automated benchtop immunoanalyser that is capable of conducting research, clinical, forensic, molecular, and veterinary testing.
The Evidence Investigator is a compact semi-automated benchtop analyzer. It is a perfect fit for medium throughput laboratories seeking maximum use of bench space without compromising on the volume of samples processed.
Evidence Investigator Instrument Details
Analyser is capable of testing 54 patient samples in 5 hours
All parts are included with the analyser including the machine, monitor, computer, scanner, thermo shaker and thermocycler
If two operators are running the machine, then this analyser can run 324 samples in one day
A separate extraction PCR machine would be required and then the Investigator would test this
Detection from nucleic acid
Batch testing
Suitable for laboratory setting
Comprehensive test menu
Semi-automated benchtop immunoanalyser
Up to 2376 tests per hour
Up to 44 analytes screened per biochip
Suitable for medium throughput laboratories
Extremely robust with only one moving part
75cm (H) x 48cm (D) x 42cm (W)
Weight of analyzer: 25 KG
The benefit of both of these analysers is that they use Randox biochip technology which tests for 10 viruses including the new coronavirus strain. This provides a huge benefit over all other conventional PCR test in the market, as when someone is suspected of having coronavirus other tests will only offer the dedicated test for coronavirus. However if this patient does not have coronavirus then the lab will have no idea what virus they may have.
With Randox's coronavirus panel it tests for the following viruses:
2019-nCoV
Mers CoV
SARS-Like
Flu A
Flu B
Rhinovirus
Enterovirus
Adenovirus
Coronavirus 229E/NL63
Coronavirus OC43/HKU1
We'd love to hear from you! Send us a message using the form opposite, or email us.
Head Office
8-Huma Plaza, Fazal-e-Haq Road, Blue Area Islamabad – 44000 Pakistan
Say Hello:
huzaifa@wwvpk.com
Phone:
92-51-2604368, 2829357, 92-336-6698811